Purchase
For Newspapers and Magazines:

Contact Jeff Widderich on +1 250 885 8344 or email sales@syndicatedpuzzles.com for prices and availability.


Prices depend on your circulation and country.

We can provide EPS or PDF format

We can provide stand alone puzzle files or embedded in rectangles with rules, numbering, dating and with yesterday's solutions, as in this example to the right.

Our service really is drag and drop and hassle free!




Example Newspaper Puzzle
Circulation under 10,000?



We are offering

FREE

print ready Str8ts/Sudoku files in PDF format - simply register and download. You can use these in any community newsletter, magazine, school or college newspaper, commercial or free - provided you are not a 'daily'.

Our four layouts and free puzzles are organised into five catagories: 3 times a week, twice a week, weekly, every two weeks and monthly. For Daily prints, please let us quote.
Register and Download link.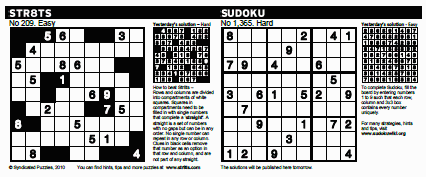 Just looking for puzzles to solve?



Andrew Stuart makes fantastic puzzle packs that you can download and print for £3.25 / $US 5.49.

These are available HERE.



50 Sudoku puzzles - Gentle, Moderate, Tough, Diabolical, Extreme or Mixed Packs

50 Jigsaw Sudoku puzzles - Gentle, Moderate, Tough, Diabolical, Extreme or Mixed Packs

50 Killer Sudoku puzzles - Gentle, Moderate, Tough, Diabolical, Extreme or Mixed Packs

25 Samurai Sudoku puzzles - Gentle, Moderate, Tough, Diabolical, Extreme or Mixed Packs

100 Mini Killer Sudoku - Mixed Pack

50 Sudoku X - Mixed Pack

50 Killer Jigsaw Sudoku - Mixed Pack

Want to Sell Puzzles?



We have a great distribution program if you are interested in selling our puzzles. Check out this page


Currently published in: