Since 2005
Online Edition

The best mind games
for print and new media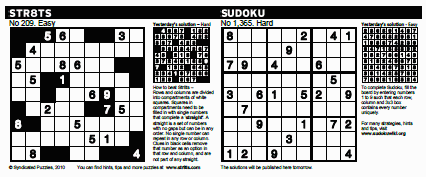 New account holders please register here:
Creating an account allows you to pick up the puzzle files whenever you need them
Files are provided up to two months in advance.
Qualification
for the
free
service is
by special invitation, or
you are a non-profit or free newspaper
or a school, college or community newspaper or newsletter
Your issue circulation less than 5,000
You publish in Canada, United States, United Kindgom, Ireland, Australia, New Zealand, Denmark or Germany.
You print no more than three times a week
Terms and Conditions
I agree that...
The information entered in this registration is true and I am the authorized by the publication entered here to create this account.
All puzzles remain the property of Syndicated Puzzles. They may not be syndicated, rented, loaned or sold by myself or any other party without the written consent of Syndicated Puzzles. All puzzles published by Syndicated Puzzles are invented and created by Syndicated Puzzles. I accept they are protected by copyright.
Puzzles and puzzle files may not be modified, altered or changed in any way which alters the meaning, tone or general context of the puzzles, or which disguises the origin of the puzzle.
Any and all copyright or trademark notice(s) in each puzzle file must not be altered or deleted.
In the event that a customer makes alterations, changes or deletions to purchased Syndicated Puzzles published material which alter the meaning or tone of the material, render it libelous or injurious to any third party, or infringe on the copyright, trademark, trade name, or literary or artistic or other property or any other rights of any person, firm or corporation, the customer shall indemnify and save harmless Syndicated Puzzles to the extent of any and all expense and liability, including attorneys' fees incurred in such connection.
Str8ts is a trademark of Andrew Stuart and Jeff Widderich trading as Syndicated Puzzles.
All puzzles are provided for one publication only, the publication registered by this account. Each free download or purchase of any puzzle(s) from Syndicated Puzzles is delineated towards a specific publication.
This agreement shall be construed in accordance with and governed by the Laws of the United Kingdom.
Create an Account
Need something different?
Something customised?
A different mix of puzzles?
Are you a medium or large newspaper? Do you print daily?
Tell us what you need and we'll be very
happy to quote
.